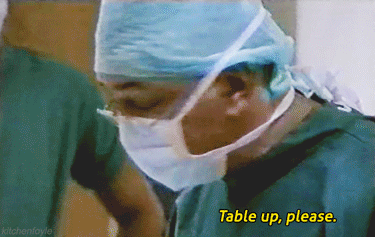 A table height adjustment is necessary when Jack hands over the surgery to Robert.
Nearly fell over when I first saw this scene. Too funny. – pdx144
You've got to love him.  It's not even as if Martin Shaw is that much taller.
From The Guardian:
A & E – formerly known as Always And Everyone but that made things too easy – has an entertaining double act in Michael Kitchen and Martin Shaw, playing surgeons. Two serious actors though, of course, not at their most serious here. Shaw gazes benevolently over his spectacles and Kitchen twinkles wickedly over his mask. As Lord Olivier used to say, "It's all in the eyes, dear boy." Admire their acting as they both pretend to smoke. It takes years to perfect that sort of aplomb.